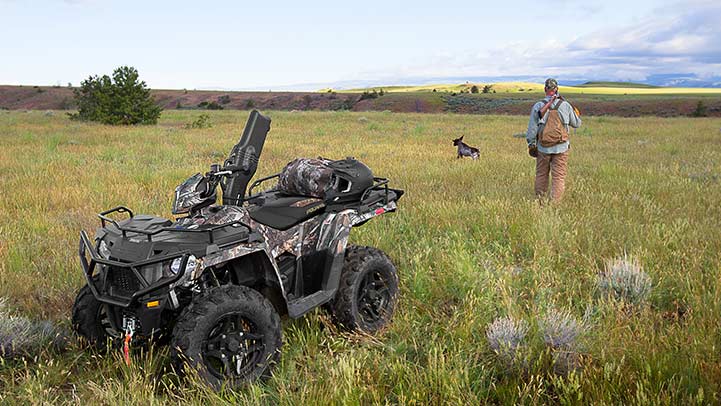 Take your next hunting expedition to the next level with the help of a Polaris vehicle. All of these ATVs are great for off-roading, but a few specific models were designed with hunting in mind. You will notice they have colors like camo or sage green to blend in with the surroundings and may even have a convenient spot to store your gun. Think about what you want from an ATV for hunting, and then you will be ready to choose between the following Polaris models.
Polaris Sportsman 450 H.O.  
The Sportsman 450 H.O. starts at just $5,999, and it gives you 31 horsepower to work with. The combined capacities of the front and rear racks is 270 pounds, more than enough for your hunting gear and kills. There is also a ground clearance of 10.5 inches.
Polaris Sportsman 570
Choosing the Sportsman 570 costs a bit more, as it starts at $7,099, but you also get more power thanks to the 44-horsepower engine. Best of all, you can tow up to 1,225 pounds with it, making it ideal for longer hunting trips or larger kills. The racks hold the same amount as in the Sportsman 450 HO, and you also get the on-demand true all-wheel drive system. Ground clearance increases to 11 inches.
Polaris Sportsman 570 SP
The Sportsman 570 SP is designed for hunting with its SP and Hunter Performance packages. It starts at $9,699 and has the same 44-horsepower engine as the 570. However, it can tow up to 1,500 pounds and has built-in 6.5-gallon storage in the front. Ground clearance is 11.5 inches.
Polaris ACE 570 SP
The Polaris ACE 570 SP is priced similarly to the Sportsman, starting at $9,999. It also has the SP Performance Package and the 44-horsepower engine. It always comes with electric power steering and truly excels off-road. You get 10.25 inches of ground clearance. At only 48 inches wide, you can easily fit this ATV on most trails.
Polaris Sportsman 850
The Sportsman 850 starts at $8,999 and, like all the other options, has the on-demand all-wheel drive system. It has a more powerful 78-horsepower engine, a combined rack capacity of 360 pounds, and a towing capacity of 1,500 pounds plus a ground clearance of 11.5 inches.
If you still need help choosing between the Polaris hunting vehicles, talk to the team at Bama Buggies in Tuscaloosa, Alabama. They will be happy to offer suggestions and show you the various available accessories.