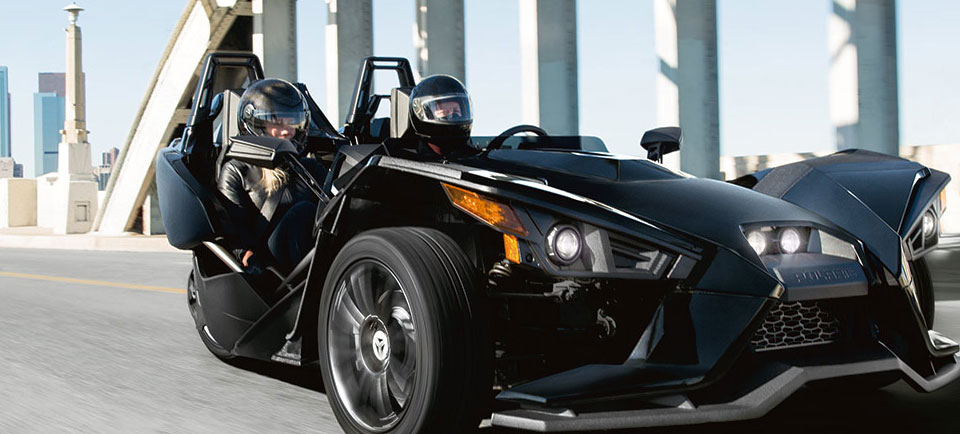 If you want to open-air freedom of a motorcycle, the agility of a sports car, and radical design that defies everything that's come before, we have your answer here at Bama Buggies! Check out the versatile Polaris Slingshot to make a statement every time you leave the driveway.
Something for Everyone
Polaris offers the stylish Slingshot in four dynamic variations, and each one promises a unique experience along with the thrilling drive that comes standard with the Polaris name. The open-air Slingshot S starts the trim range with boundless customization, and it comes standard with electronic stability control, a waterproof cockpit, and thoroughly bolstered bucket seats to keep you in prime driving position as you navigate curves and corners. If you opt for the SL version, you'll enjoy added tech tools like a backup camera, plus a new infotainment system and a sleek new interior design. The Slingshot R enhances the looks with sleek, angular styling, a sport interior package, and navigation. The Grand Touring trim complements capability with comfort, and the cockpit is sheltered by a Slingshade and expanded windscreen. The exterior also sports a premium metallic finish, while the interior refines your ride with quilted comfort seats.
A Road-Ruling Powertrain
Under the hood, the Slingshot runs on the ProStar 2.0-liter dual overhead cam 4-cylinder. In the SL, the engine generates an impressive 178 horsepower at 8500 RPM, and it delivers a formidable 203 horsepower at 8250 RPM in the R version. Any model gives you more than enough power for highway agility as you accelerate to merge and pass, and its precise handling lets you maneuver with unyielding balance and agility.
The Slingshot SL and R models are now available with Auto Drive, allowing you to leave gear shifting duties up to the capable hydraulically actuated automated manual five-speed synchromesh transmission. If you prefer to take shifting into your own hands, smooth manual shifting is still available in the R trim, of course.
On the Cutting-Edge
Polaris redesigned the Slingshot's cockpit for 2020, and a 7-inch Ride Command® infotainment system is now available. Sunlight won't interfere with the user-friendly display screen, and your audio will come in loud and clear through the 100-watt Rockford Fosgate sound system. The cockpit also sports fresh adjustable air vents as well a s a leather-wrapped flat-bottom steering wheel equipped with integrated cruise control and other multi-function controls.
You might also like: You Can Do It All In The Polaris General
We Have Your Slingshot at Bama Buggies
If you're ready to hit the road in a truly unique driving machine, we'd love to introduce you to the Slingshot. Feel free to explore our Slingshot inventory online to discover the model that's right for you!