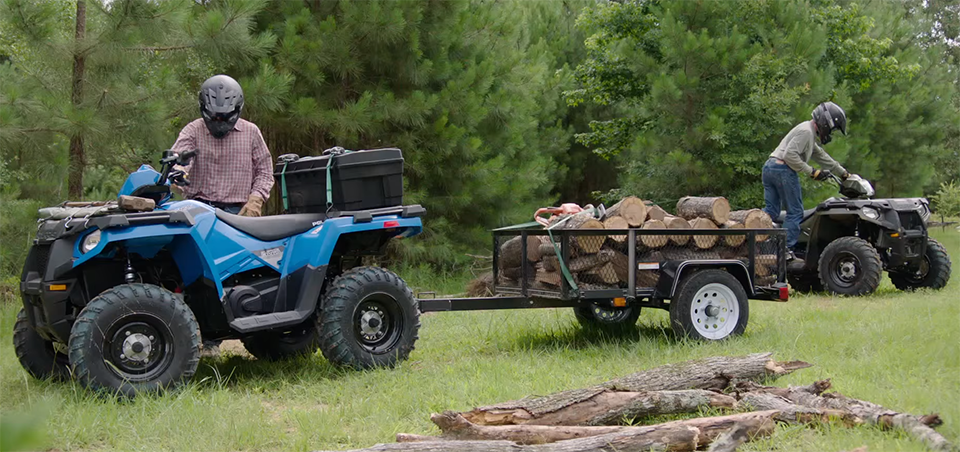 Learn more about the Polaris Sportsman 450 H.O., and you will want to start testing it out as soon as possible. It is incredibly powerful, built to give you all the power you need to tackle typical off-road obstacles.
Polaris Sportsman 450 H.O. Base or EPS
You can choose the Base model or the EPS version. The Base lets you choose from Sage Green or Velocity Blue while the EPS version is only available in Sage Green. As the name implies, the EPS has electric power steering, but the models are fairly similar other than this.
Hard-Working Sportsman 450 H.O. ATV
The newest Sportsman 450 H.O. is ready to work hard for you. The ProStar engine has electronic fuel injection and gives you 31 horsepower. It is also incredibly reliable, starting easily and maintaining its functionality on cold or hot days and for extended periods. The on-demand all-wheel drive system is the fastest engaging of all systems available at the moment. This means you don't have to wait to feel the power engage and get moving.  The Polaris Sportsman 450 H.O. also offers the smoothest, most responsive power steering currently available in an ATV.  The Sportsman 450 H.O. boasts 30% more power assist than the leading competitor. It also adds Variable Assist for easier steering at lower speeds. The EPS will let help you to ride all day with less fatigue from steering.
Polaris Sportsman Great Storage
Not all ATVs make it easy to store items, but the Polaris Sportsman takes care of your cargo. The Polaris Sportsman 450 H.O. has a 6.5 gallon front storage compartment that lets you stow-away loads of gear and still have access to it. Factor in the 90-pound front rack capacity and 180-pound rear capacity, and you can bring along everything you need. Need more storage? Don't worry. The Lock and Ride Accessory System has multiple different accessory options you can easily attach to your ATV. You can choose between tying your cargo to the bars and adding a secure cargo box, among other options.
Reading about the Polaris Sportsman 450 H.O. is one thing. To truly get a feel for it, you need to see it in person. Visit us at Bama Buggies in Tuscaloosa, Alabama, to do just that and start enjoying off-road adventures.