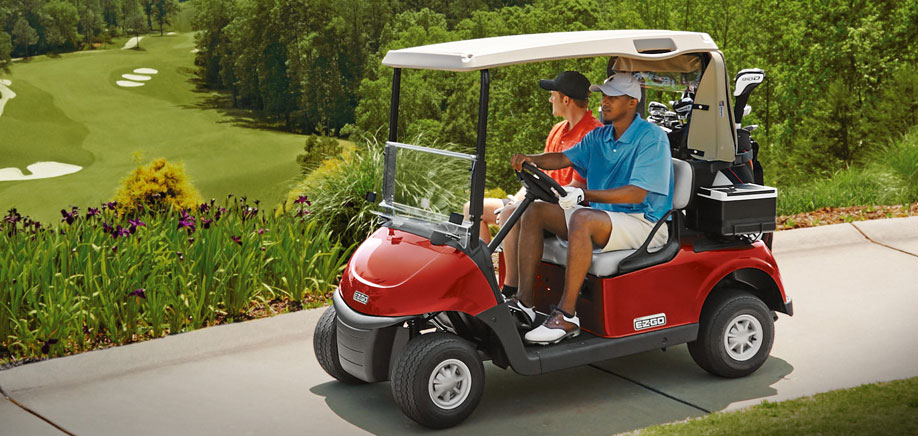 Personalize your E-Z-Go golf cart to take full advantage of its capabilities when you hit the golf course. You can find every type of item you could possibly need, such as scorecard holders, coolers, and golf bag holders. When picking the accessories and parts for your E-Z-Go, always opt for official ones, as they will work well with your golf cart and be made to last. While your golf cart may not be the flashiest on the course, it can easily be the most useful.
Get a Top or Windshield for Your E-Z-Go
Some of the most important parts to consider for your E-Z-Go before hitting the golf course are tops and windshields. All 2-passenger E-Z-Go vehicles have the same standard 54-inch top, making it easy to shop for your favorite. Investing in a top can block out the sun or rain when you don't want to give up on your game due to poor weather. A windshield can also help protect you from the sun and poor weather. Best of all, the official windshields made for E-Z-Go carts are 70 percent polycarbonate and 30 percent acrylic, so they resist cracks and impacts.
Golf Bag Holders and Covers
If you can only invest in a few accessories or parts for your golf cart to use on your next trip to the green, consider a golf bag holder or cover. The bag holder will store your golf bag in the bag well portion of the vehicle, and you can choose from an attachment that holds two or four bags. There are also golf bag covers that are essentially mini tops that cover your golf equipment to protect them from rain.
Coolers Designed for E-Z-Go
You could always just bring a loose cooler along and throw it in the bag area of your E-Z-Go, but most people find it easier to have a cooler that was specifically designed for their golf cart. These coolers are the perfect size and ensure you always have a refreshing cold beverage on hand.
You can get these and other great accessories for your E-Z-Go golf cart at Bama Buggies in Tuscaloosa, Alabama.