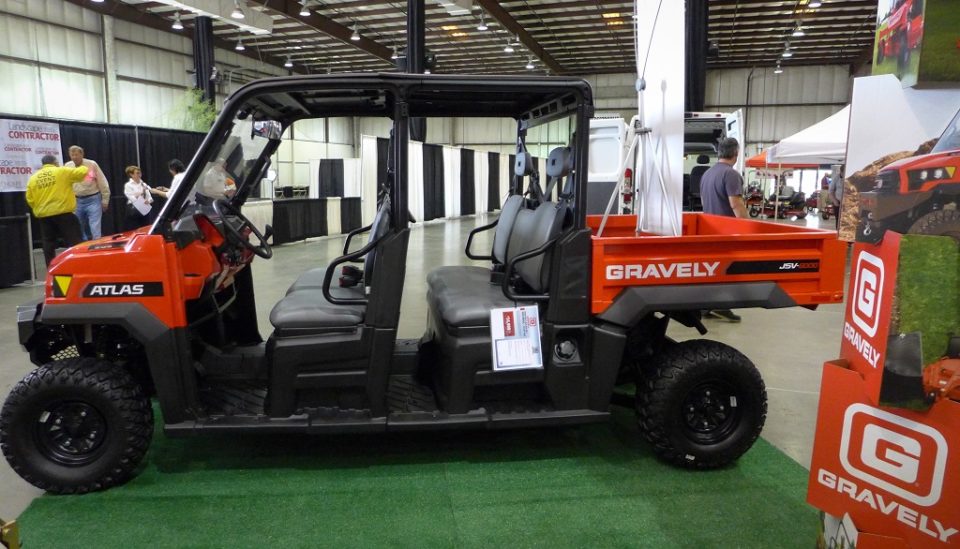 Stop searching for the next vehicle to use on your jobsite and go with the Gravely Atlas. The Atlas JSV is ready to work hard and can keep up with you for the entire workday. With tough construction and incredible power, there are dozens of reasons you will appreciate having this vehicle at your jobsite. Here are just a few of them.
Thoughtful Pedal Spacing
Sometimes, the small touches help jobsite vehicles stand out, such as the pedal spacing of the Atlas. Gravely designed the pedals so that they are spaced perfectly for work boots. No more trying to squeeze your boot-clad feet in a small space.
Gravely Atlas Class-Leading Payload
Don't worry about overworking your Atlas JSV. After all, it has the class-leading payload capacity of 1,900 pounds.
Class-Leading Bed Capacity
Combine the payload capacity with the class-leading 1,250-pound bed capacity, and you have a recipe for success.
These features mean that you can handle a full round bale, 11 cubic feet of gravel, or an impressive 46 cinder blocks at a time.
Room for a Pallet
In addition to holding up to 1,250 pounds, the bed on the Atlas has 18 cubic feet. This means you can fit a pallet that is fully loaded. Use the four integrated tie-down points to make sure your cargo doesn't slide around.
Gravely Atlas Steel Cargo Bed
The cargo bed on the Gravely Atlas is made from fabricated steel for extreme durability and strength. This means that you can put heavy objects, like rocks or bricks, inside without a problem.
Electric Bed Lift
To make the cargo bed even more useful, all models come standard with electric bed lift. This lets you press a single button to dump your cargo instead of having to
fiddle with levers or remove the items by hand.
Industry-Leading Towing Capacity
The Atlas JSV continues leading the class and the industry with its top towing capacity. It can tow up to an entire ton, giving you 2,000 pounds to work with. This means fewer trips across the jobsite and more time saved.
Handling When Loaded
Some jobsite vehicles suffer from poor handling or other failings when fully loaded, but not the Atlas. This is thanks to its work-grade rear suspension from de Dion that helps distribute the weight evenly. Thanks to the suspension, handling, and ground clearance remain the same even if you are taking full advantage of your Atlas's capacity.
Going up to Speed
While capacities are perhaps the most important factor for a jobsite vehicle, speed is also important. Gravely understands this, which is why the Atlas can go up to 35 mph. This way, you can get around more quickly.
Gravely Atlas Comfort and Space
You can configure the Atlas to fit three or six passengers while still providing enough space to stay comfortable and get inside easily. To make sure you have everything you need for the full day, there is in-dash storage, under-the-seat storage, and plenty of cup holders.
Make your jobsite activities in Tuscaloosa, Alabama, easier with the help of the Gravely Atlas. Visit Bama Buggies today to get your jobsite vehicle.