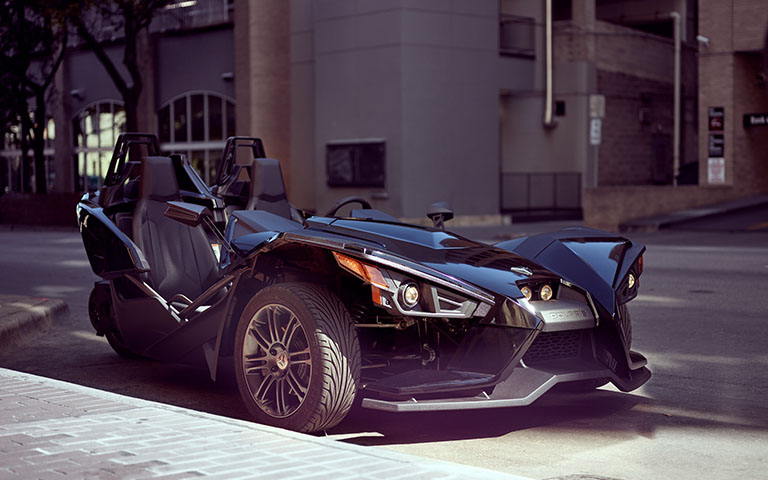 Cruise in a vehicle like none other: The Polaris Slingshot. This super cool ride is packed with power and showcases an incredible design that makes it easily stand apart from all other vehicles. Best of all, the 2018 Slingshot has already hit the pavement! Check out what the Slingshot has to offer, and get into one of your own, today.
What Makes the Polaris Slingshot Special?
For one thing, this one-of-a-kind vehicle is a sight to see. At first glance, you'll immediately notice its unique, sleek, sporty design. From its precise cuts and grooves to its bold front and stand-out wheel base, when it comes to aesthetics, the Slingshot has it all.
Can you believe that the Polaris Slingshot is street legal? That's right, this ride is perfectly equipped for traveling on public roadways. In most states, it is classified as a motorcycle – meaning that you'll need a motorcycle endorsement or license to operate it legally. Other states classify the Slingshot as an autocycle, requiring only a state drivers licence. The classification for this vehicle is state dependent, so be sure to check and ensure that you have to proper documentation before operating.
The power-to-weight ratio of this vehicle also make it stand out against all others. It features a lightweight design and provides 173 horsepower. You'll feel like you're gliding on air with each acceleration and turn!
One other great feature about this vehicle is that it's "bulletproof". It is built to endure handling from all drivers, including those who enjoy rough driving. No matter what you put this vehicle through, it will persist. That's what drivers want, after all – a quality, fun-to-drive vehicle that they can depend on.
Check Out the 2018 Slingshot
There are multiple versions of the 2018 Slingshot available. It's trim levels include the Slingshot S, SL, and SLR – and they come in a variety of sporty color options.
On the base version of this vehicle, you'll find everything from ABS disc brakes to Electronic Stability & Traction Control, making your driving experience more safe and secure.
Take a step up to the SL model, and enjoy cast aluminum wheels, a Premium Rockford Fosgate audio system, and a multi-functional Ride Command touchscreen.
With the SLR model, check out the extra-wide 305mm rear tires and high-performance forged aluminum wheels. This trim also comes with Premium SLR-branded bolstered sport seats, as well as the Slingshot Ride Command system w/ navigation. No matter what you are looking for, this trim level has got you covered.
You can easily get into a high-quality Polaris Slingshot today with a quick visit to Bama Buggies in Tuscaloosa. Stop by and select the trim that best meets your needs. Then, get ready to hit the road in style!