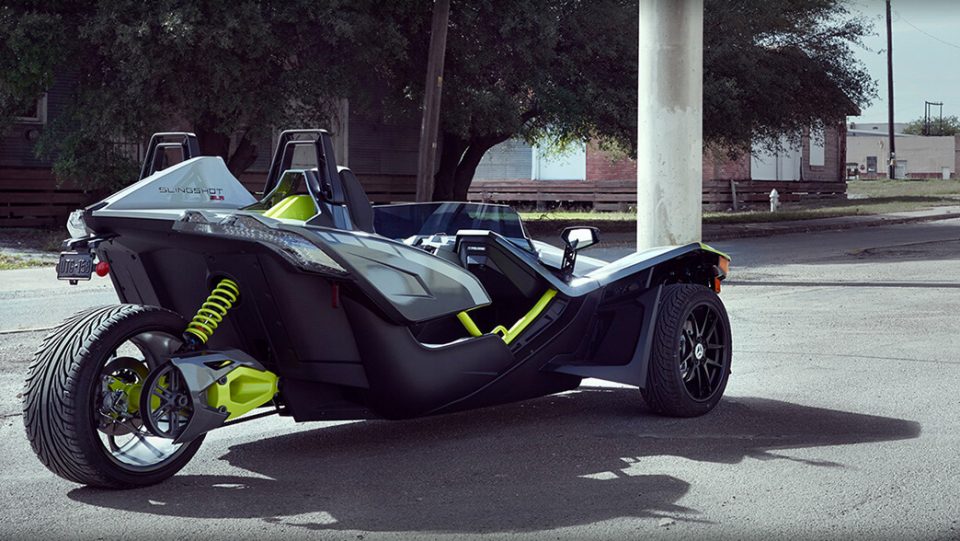 If you're on the hunt for a unique vehicle, the Slingshot is an excellent choice. Cruise the city streets in style and turn heads at every corner in a 2018 Polaris Slingshot SLR.
2018 Polaris Slingshot SLR
When you take one look at the Polaris Slingshot SLR, it will instantly feel like this high-quality vehicle was made for the race track. It showcases Sparco racing components, an extra-wide rear tire of 305mm, high-performance forged aluminum wheels, and premium bolsters sports seats that showcase the SLR brand. The Slingshot's seats provide extra support in the corners of the seats. Additionally, you can stay connected with the Slingshot Ride Command system. This is a seven-inch multi-touch display that provides you with extra convenience while driving, as well as navigation. Therefore, you can easily discover the perfect route for your journey on the road. Prepare for a ride to remember!
Things to Know Before Buying a Polaris Slingshot
Before you're ready to purchase your Polaris Slingshot SLR, there are a few things that you'll want to consider.
1.) Ensure that your Slingshot is street legal. It must meet all of the necessary legal requirements and be properly equipped for use on public roads.
2.) Have your license requirements. Keep in mind that the classification of Slingshot is dependent upon the state in which you reside. So, be sure to check for classification details for the state of Alabama and obtain the license or endorsement that you need.
3.) In order to travel securely, you must take the necessary safety precautions when travelling in your Slingshot SLR. Therefore, it is vital to make note of the helmet laws in your state. These laws also vary from state to state, but Slingshot manufacturers recommend wearing a DOT approved full face helmet.
4.) The Slingshot boasts a lightweight design as well as 173 horsepower, providing this vehicle with an exceptional power-to-weight ratio.
Visit Bama Buggies
Now that you know all about the 2018 Polaris Slingshot SLR, all that's left is to purchase one of your own. Visit the professionals here at Bama Buggies in Tuscaloosa, AL and drive away in a stylish, sporty vehicle that you'll love to drive. Our professionals will gladly go the extra mile to provide you with the answers to any questions that you might have, ensuring that you can make your purchase with confidence.
So, what are you waiting for? Stop by for a visit, today! The open road awaits you.