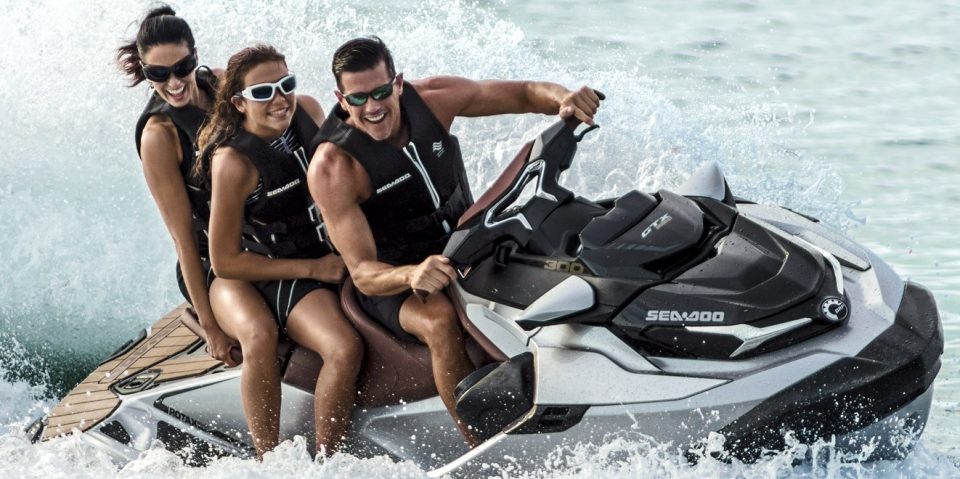 Summer is upon us, and with it comes to fun on the water. If you've spent summers past looking longingly at Sea-Doo riders in the distance and wishing you could join them, this is the time to do it. There is a Sea-Doo model for every type of rider and every budget. From wave-loving speedsters to smooth and composed cruisers, the Sea-Doo lineup has something just for you. Get your fun on in the water with one of the many variations we have in stock at Bama Buggies.
Sea-Doo SPARK
One of the most affordable watercraft on the market, the SPARK doesn't sacrifice one ounce of thrill with its attractive price tag. Available in two- and three-seat configurations, the SPARK is perfect for family fun on the water. Its small size makes it simple to tow. It features a lightweight, fuel-efficient Rotax 900 ACE engine that delivers strong acceleration every time.
Sea-Doo WAKE
If you're a rider who relishes the thought of carving wakes and chasing adrenaline rushes, the Sea-Doo WAKE might be the perfect watercraft for you. Features include a retractable ski pylon with a high tow point, removable board rack, and precisely controlled ski and wakeboard launches as well as touring, sport, and ECO riding modes.
Sea-Doo SPARK TRIXX
This vivacious and fun-loving trickster is perfect for those who want to make the water their playground. It features an extended range variable trim system to exaggerate how high you can raise the nose and how deep you can bury it in the water. Step wedges give riders more stability and confidence for stand-up tricks and riding. The SPARK TRIXX is lightweight and easy to handle, giving you the unparalleled ability to pull off all your best tricks like a pro.
You might also like: Go Hiking At Lake Nicol
Find Your Sea-Doo at Bama Buggies
Your source for powersports vehicles including an amazing selection of Sea-Doo models is conveniently located for Central Alabama drivers in Birmingham, Northport, Montgomery, and all surrounding areas. At our Tuscaloosa dealership, you can browse the Sea-Doo models we have in stock and get expert advice and answers from our friendly associates as you decide which one is best for your needs. The best part? Bama Buggies features amazing prices and special offers and incentives you'll find hard to pass up. Come find your Sea-Doo today and get ready for some excitement on the water!