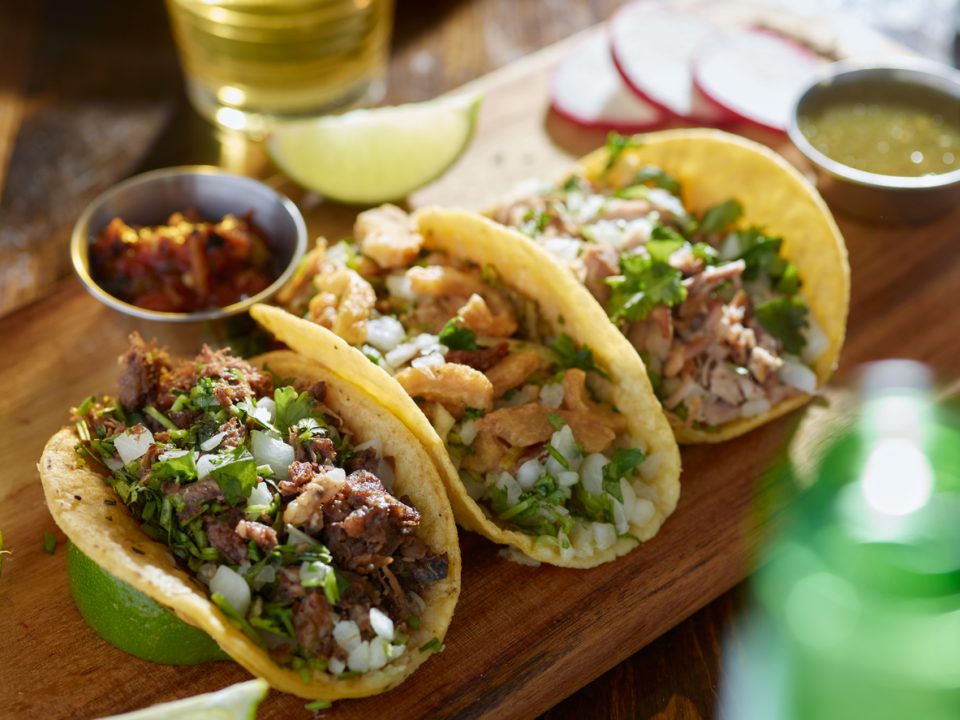 If you're in the mood for something with a little spice and a lot of flavor, a good taco is hard to beat. We have numerous options for the classic Mexican dish here in Tuscaloosa, so pay a visit to these local taquerias and restaurants!
TAQUERIA LA MICHOACANA
In a cozy spot on Veterans Memorial Parkway, you'll find Taqueria La Michoacana serving up street-style tacos with a variety of familiar and traditional ingredients. Tacos may be filled with tender beef or vibrant red chorizo for a subtle spice, or you may opt for special beef cuts like cachete and lengua. Tacos come with fresh white onion and chopped cilantro to compliment the meats' flavor and ease the spiciness of seasoned ingredients. Your dish may be garnished with fresh slices of lime or a blistered jalapeño, allowing you to add more spice as you wish. The Taqueria is located at 2206 Veterans Memorial Parkway, Tuscaloosa, Alabama 35404.
FRIDA'S MEXICAN GRILL
Named after the iconic Mexican artist Frida Kahlo, this local institution serves a colorful canvass of delicious Southwestern favorites. In addition to their selection of burritos, fajitas, and enchiladas, Frida's Mexican Grill makes a variety of tacos, including al pastor, shrimp, chorizo, steak, fish, and more. They all come with pico de gallo, rice, salsa, lettuce, bean soup, and lime. For a bit of everything, you can opt for el Molcajete, a traditional stone mixing bowl loaded with steak, quail, shrimp, chicken, pork, cactus, refried beans, and cheese. Frida's is located at 6521 Alabama Highway 69 S, Tuscaloosa, Alabama 35405.
ANTOJITOS IZCALLI
While the tables may fill up quickly at Antojitos Izcalli, the authentic Mexican fare is worth the wait, and you can always order take-out to grab your tacos on the go. Their menu has impressed diners from all around the U.S., touted as true to the original cuisine's nuanced style and flavors. Antojitos Izcalli offers a range of tacos with your choice of chorizo, carne asada, chicken, al pastor, barbacoa, or even harder-to-find ingredients like tripa or cabeza. For another handheld option, meat lovers can try their torta Cubana, a sandwich with chorizo, carne asada, ham, and a hot dog. The restaurant is also lauded for its salsa verde, which can spice up your order as desired. Antojillos Izcalli is located at 623 Hargrove Road E, Tuscaloosa, Alabama 35401.
EXPAND YOUR VOCAB AND YOUR PALATE
Barbacoa – Beef or lamb slow-cooked over a fire. Think barbeque.
Cachete – Beef cheek.
Chorizo – Pork sausage seasoned with paprika and other spices.
Cabeza –Flavorful beef head roasted until tender.
Pico de Gallo – Sauce of freshly chopped onion, cilantro, and tomato, often with a zesty squeeze of lime juice. The term translates to "rooster beak," but the sauce is poultry-free.
Salsa Verde – Green sauce generally consisting of jalapeño chiles, onion, and slightly tart tomatillos.
You might also like: Tuscaloosa's Best Lunch Spots
BAMA BUGGIES
If you're looking for something to spice up your life, we can help you find your next adventure vehicle here at Bama Buggies! Take a look at our wide selection of ATVs, carts, and watercraft, then come see ups whenever you're ready.