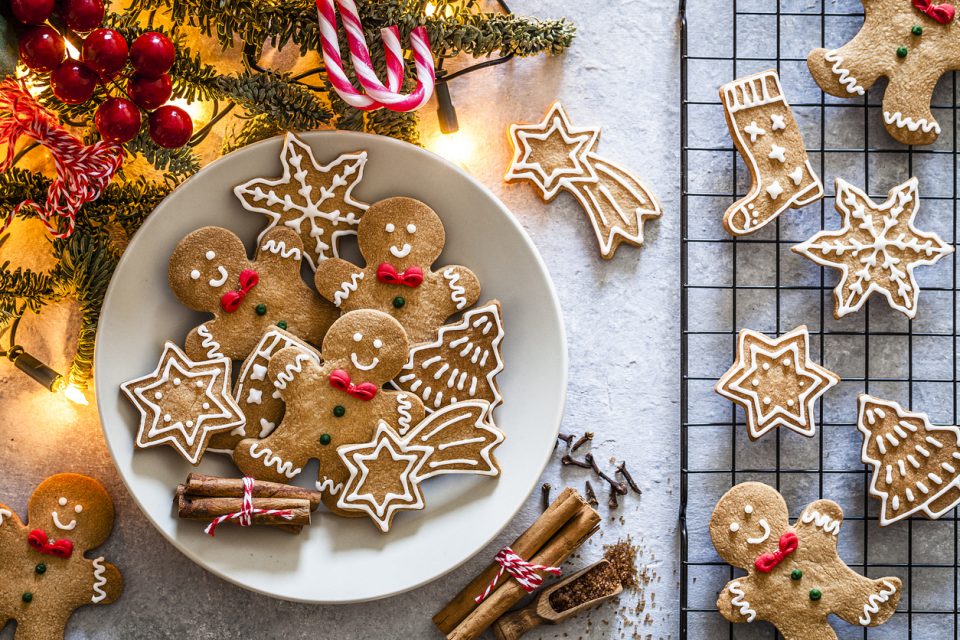 Many of us have cherished memories baking cookies with our loved ones around the holidays, and want to continue the tradition ourselves now that we're older. When you're ready to don your apron and bust out the rolling pin, give one of these tasty recipes a try.
Shaped Sugar Cookies
Sugar cookies take a few very simple ingredients – sugar, butter, flour – to combine them into something greater than the sum of their parts.  These simple but delicious cookies are the epitome of Christmas traditions. Sugar cookies are completely plain on the outside which allows you to decorate them however you please – like trees, sweaters, Santa hats or faces, reindeer, snowmen – the list goes on. It's a great activity to do with kids this holiday season. They'll love spreading the icing and adding sprinkles! You can find the original recipe here.
Gingerbread Men
Who doesn't love these spicy-sweet cookies decorated to look like little people? Gingerbread men are believed to have first been served in the Court of Queen Elizabeth I, who served them to foreign dignitaries. They became increasingly popular, and are now served around Christmas time.  These cookies combine savory-sweet spices and molasses for an unforgettable, unique flavor. This recipe for gingerbread men uses softened butter instead of melted butter, which means the cookies are softer and chewier rather than brittle and snappy. Check out the recipe here.
You might also like: Take The Kids To The Children's Hands-On Museum Of Tuscaloosa
Sugar Cookie Trees
For these adorable cookie towers, you'll take pre-made sugar cookie dough and scoop it into balls that are 1 TBSP, 2 TBSP, and 3 TBSP big, which will create three-tier sizes of cookies. After they're baked and cooled, pipe white or green buttercream on top of each layer and stack them to make Christmas trees made out of cookies. Use sprinkles or mini M&M's® to decorate the trees with ornaments. These cookie trees make a great dessert for dinner parties, holiday get-togethers, or even kids' classroom holiday parties. If you're looking to spice things up, these trees can easily be made with ginger snaps or snickerdoodles as well! Find the original recipe here.
So what are you waiting for? You can't go wrong with any of these recipes, so get your apron on and get baking!