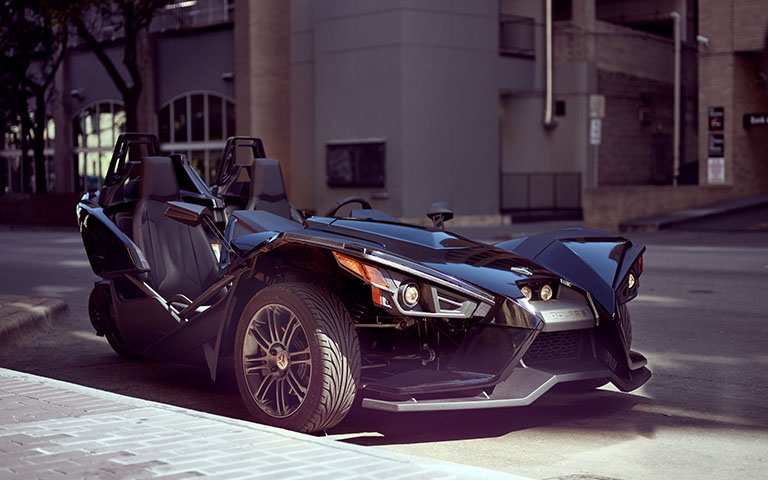 The Polaris Slingshot is a street-legal three-wheeled roadster designed for thrill-seekers and speed lovers. No matter which Polaris Slingshot model you choose, you'll hit the road with the wind in your hair and a smile on your face as you embrace the excitement of this fun-loving ride.
Popular Polaris Slingshot Models
When you're selecting your perfect Polaris Slingshot, you're going to want to brush up on the individual offerings of each model. Each has tons of customization options with accessories and add-ons that can complete your ultimate ride. Comparing their features, prices, and other specs will help you decide which is the right one for you. Take a closer look at three favorites:
2020 Polaris Slingshot SL – This model lineup comes with enhanced trims, a palette of sizzling colors, and an infotainment system with a 7-inch ride command display. The power comes from a 178-horsepower Prostar 2.0L 4-cylinder engine that gives you plenty of pep on the road.
2020 Polaris Slingshot R – Up the ante in the Slingshot R, which features a 203-horsepower Prostar engine, navigation and connected services, and a sport interior package for the ultimate combination of sharp style and unparalleled functionality.
2019 Polaris Slingshot Grand Touring – Comfort is the order of the day inside this model, a cruiser that delivers a breathtaking ride in a connected and tech-savvy cockpit. The Slingshot Grand Touring gets its juice from a 173-horsepower GM 2.4L 4-cylinder engine.
You might also like: Grab A Steak In Tuscaloosa
Find Your Polaris at Bama Buggies
Bama Buggies is your Central Alabama source for excitement on and off the road. With a broad selection and amazing prices on all your favorite ATVs / UTVs, personal watercraft, powersports and recreational vehicles, we have everything you need for your next big adventure!
If a Polaris Slingshot sounds like the roadster you've been dreaming of, you'll be happy to hear that we have a team of friendly and helpful brand experts at our Tuscaloosa store who are standing by to help you choose the right model. They will show you around our dealership, set you up on a test drive of your top picks, and help you make that all-important choice in a can't-miss lineup of cruisers. And if you think our selection and service are great, just wait until you hear about the exciting savings opportunities we have in store for you! Come see us today and let's find your Polaris Slingshot.